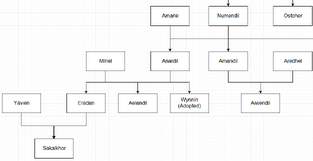 Members
Amandil (Bolg) - Lord of Lebennin
Tar-Anardil (Mati_429) - Founder of the House, Lord of Anórien, Emperor of Gondor
Eradan (PotatoRekt41) - Lord of Pinnath Gelin
Aelandil (termix1111) - Lord of Lossarnach, Citadel-Captain
Aiwendil (JazvecBoy) - Ranger of Ithilien
Aerendyl (Xavron) - Lord of Harondor, Steward of Gondor
Wynnin (Topsies) - Captain of Anórien
Azriel (Duilan) - Swan Knight of Dol Amroth
Description
The Númerión family is one of the most powerful houses in whole Dúnedain Empire. The family is currently headed by Tar-Anardil (Mati_429), Lord of Anórien.
The House Númerión is one of the few houses with true Númenórean ascendance, most family members still have true Númenórean blood.
House Estates
Númerións own different estates in Gondor.
Name
Type
Location
Short Description
Minas Númerión
Caslte
Anórien
The current home of the house.
Minas Brethil
City
Lebennin
A huge city surrounded by vineyards and olive farms.
Minas Sernis
City
Lebennin
City of Amandil
Eldford
Fort
Pinnath Gelin
Home of Eradan
Minas Astalda
Castle
Harondor
Castle of Aerendyl
Minas Mondériath
Castle
Ithilien
One of the Castles securing the borders of Ithilien
Amon Isílya
Castle
Ithilien
One of the Castles together with Minas Mondériath

securing the borders of Ithilien
Lore about the family Númerión
W.I.P